MainelyDesign.com Blog
The Funniest Error Message Ever - Thank You Eclipse
Posted on 10/18/2010 at 06:34 pm by Kevin Wentworth
Viewed 14,058 times | 0 comments
In a depature from my [normally] on-topic (i.e. dry) posts I had to post this error message up here. It made me laugh! I was working on the fattest CakePHP controller known to man (over 4,000 lines, I know... not skinny) when Eclipse ran into issues. Eclipse gave a very descriptive error message, stating that it couldn't, well see for yourself: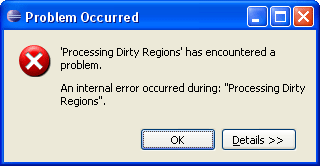 Error Processing Dirty Regions? Does that mean Eclipse only got to first base?
Cheers,
-Kevin Wentworth
Tags for The Funniest Error Message Ever - Thank You Eclipse
Eclipse | Web Programming | Errors | Humor | Windows | Usage | Software | Php | Cakephp
Comments for this Posting
No comments. Be the first to post a reply.
Sorry, comments are closed for this posting.
Please Email Kevin if you have any questions. Thanks!